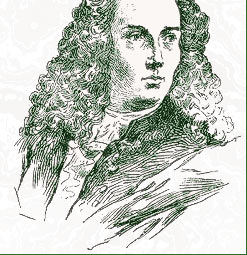 The Marquis d'Argens (1704-1772) is mainly famous for a book he did not write, Thérèse Philosophe.  That is a great pity, as the books he did actually write are far more fascinating and entertaining than that unfortunate misattribution.  D'Argens was a sceptic, a thorn in the side of the Catholic Church, whose books were denounced by the Inquisition; one of them, La Philosophie du Bon-Sens, was burnt in Paris.  He was also a close friend of Voltaire, and he belonged to the generation that is often overshadowed by that towering genius.  Voltaire greatly admired d'Argens' Lettres Juives, an epistolary work in which he wrote from the point of view of learned Jews discussing and often mocking the beliefs and customs of the Christian world.  The book manages to combine the subtly intellectual with the entertaining in a remarkable manner.  As a novelist, philosopher, translator, classical scholar, and art critic, d'Argens' works are so divers that he is difficult to categorize; he was notorious in his own time for his scandalous Memoirs, in which he recalled his youth and love affairs in Paris and Italy in the 1720s and 30s.  A wild elopement, a brief army career, and an ongoing battle with his father, who wanted him to study law, provided the main subject-matter.  Those who read these Memoirs sometimes formed the opinion that he was merely a libertine and a lightweight, but that is not borne out by a careful study of his work.  The mind that emerges from them is deeply reflective, and the philosopher is always apparent in the novels, just as the imagination of a novelist lurks in his works on philosophy.
It is really quite astonishing to me that novels as fascinating as Le Philosophe Amoureux, ou Le Comte de Mommejan, and Memoirs de M. De Meillcourt, ou Le Legislateur Moderne, are so entirely neglected.  The time I devoted to reading all of d'Argens' novels, and his other works, was frankly huge fun; his philosophical works and translations are all highly idiosyncratic and full of his personal enthusiasms and insights.  D'Argens was an intellectual, but he was also a passionate man, who loved art and music and adored women.  After many love affairs, and one youthful marriage, he settled down with a wife who shared his intellectual pursuits and was happy for him to teach her Latin and Greek so that they could be as closely united in literary as in amatory respects.
D'Argens' life was extraordinary and well worth a biographer's attention; after his wild youth he managed to obtain a post as chamberlain to King Frederick the Great, and he became a member of the Berlin Academy.  This meant that he encountered many of the greatest minds of the Enlightenment and was able to observe them even when they were behaving deplorably–which they quite often were.  When we appreciate the true erudition and range of his six-volume Histoire de l'Esprit Humain, we have to acknowledge that d'Argens is a major author.  I have had the satisfaction of putting together the first reliable catalogue of his genuine works.  He was at the nerve-centre of the Enlightenment, and rediscovering him will really enrich anybody's understanding of this epoch and the development of its thought.  You can learn more in my biography The Marquis d'Argens: A Philosophical Life.