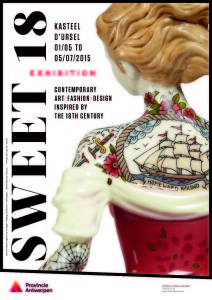 For almost four centuries, Hingene Castle (Belgium) was the favorite summer residence of the aristocratic d'Ursel family.  Each summer, the Duke, together with his family and household, would arrive to take up residence in this magnificent stately home.  Today, Hingene Castle is owned by the Province of Antwerp, which has been responsible for restoring this opulent residence to its former glory.
Through 5 July 2015, Hingene Castle will act as the setting for "SWEET 18," a unique exhibition that explores the 18th century through the eyes of fifty contemporary artists and fashion designers including Erwin Olaf, Wim Delvoye, Walter van Beirendonck, Cindy Sherman, Philippe Starck, and others.
"SWEET 18":  Contemporary Art, Fashion, and Design inspired by the 18th Century (Kasteel d'Ursel, Hingene, Belgium).  1 May—5 July 2015.  The exhibition is open to individual visitors on Fridays, Saturdays, Sundays, and Bank Holidays, from 1 pm to 6 pm.  Group visits, with afternoon tea provided, take place on weekdays between 10 am and 6 pm.  Castle entrance:  8 Euros.
For more information, reservations for group visits, or for a program tailored to individual needs, please write to:  [email protected]
(Original post by Veerle Moens.  Ed. Andrew Burkett)