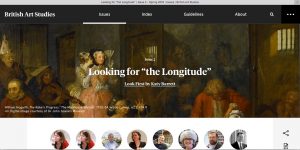 Longitude was a hot topic in eighteenth-century Britain.  What we might perceive now as a niche, and perhaps rather uninteresting, navigational problem, was then crucial to finding a means of accurately measuring longitude at sea as Britain's trade and naval aspirations expanded.  Supported by very large award monies from the government, the search for a solution became a subject of national discussion, ridicule, and social relevance appearing in every conceivable type of source from newspapers and novels to prints and paintings.
My research looks at that plethora of paper materials, which had to be navigated on land by any person putting forward a potential solution, before it would ever be trialed at sea.  The questions, conversations, jokes, diagrams, and drawings in which Georgian men and women referenced longitude become visible in precisely the sorts of digital databases and collections that The 18th-Century Common seeks to showcase.  It is the ability to search these sets of materials that makes visible the kinds of throwaway references to longitude that would otherwise be almost impossible to locate, stimulating further research in physical collections.
Digital resources, furthermore, allow us to begin to reconstruct the patterns of production as well as the use and reference in texts and images that physical collections can obscure.  My recent project with the Paul Mellon Centre's innovative online journal, British Art Studies, has begun to think about what possibilities this might offer.  "Looking for the Longitude" brings together a series of images and commentaries to consider how people experienced the longitude debate in eighteenth-century London, using as a starting point an engraving from William Hogarth's famous series, A Rake's Progress.  A pirate version of the image, done from the copyist's memory of the original painting in Hogarth's studio, offers the opportunity to examine what the copyist remembered and altered.  Marshaling a selection of texts and images that circulated at the time serves to show how such materials would have affected what this copyist, and other viewers, saw in Hogarth's engraving.  It allows us to construct a period eye.
This was also a particularly London story, however, tied to a group of metropolitan locations that shaped production and consumption of text and image.  Each of my longitude images is therefore located on an interactive map and enhanced by commentary from a group of expert contributors, ranging across histories of art and science.  They consider the significance of the urban setting, bringing into play a further circle of materials and texts.  Over the course of 11 days in June 2016, these appeared as part of a daily Twitter tour that you could, and still can, follow around the British capital.
My hope is that this digital project serves to reconstruct a sense of the rapid production and discussion, the buzz and fervor, that surrounded the longitude problem in the eighteenth century; and that in combining digital collections with digital publishing it makes the case for what such platforms can achieve.