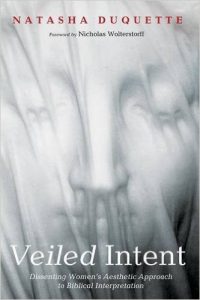 In the long eighteenth century, attitudes towards a woman lifting her voice within the religious public sphere varied denominationally.  In differentiation from Anglican and Presbyterian communities, Quakers accepted the idea of women preaching from the mid-seventeenth century onwards.  The process in the Methodist church was more gradual.  Though female Methodists were preaching by 1787, at first they could only share their personal conversion narrative or give an "exhortation" as long as they avoided the "taking of a text."  In other words, a woman could lead through public speech, as long as she did not quote from the Bible.  Little wonder women needed to veil their biblical interpretation in forms viewed as acceptably feminine when writing for print.  Within Presbyterian and Congregationalist communities women were not engaged in public speaking at all, which is perhaps why they channeled their biblical interpretation so powerfully into poetry, hymns, plays, letters, and even novels, as well as essays on taste and aesthetics.  Extremely learned women in these Dissenting communities deployed their significant knowledge of Hebrew, Greek, and theology in composing book-length works containing substantial biblical hermeneutics written from a female standpoint.
These women Dissenters focused on biblical content often overlooked by male biblical commentators.  Phillis Wheatley and Mary Anne Schimmelpenninck analyzed biblical stories of the weak overcoming the strong (e.g., David and Goliath) as a veiled analogy for women's fight against systemic oppression.  Presbyterians Anna Barbauld, Helen Maria Williams, and Joanna Baillie explored biblical birth and mothering metaphors for God's omnipotence, contra Edmund's Burke's focus on divine wrath.  Women cloaked their substantial biblical exegesis in works such as Poems on Various Subjects:  Religious and Moral (Phillis Wheatley, 1773), Hymns in Prose for Children (Anna Barbauld, 1781), A Poem on the Bill Lately Passed for Regulating the Slave Trade (Helen Maria Williams, 1788), and Poems, Wherein it is Attempted to Describe Certain Views of Nature and Rustic Manners (Joanna Baillie, 1790).  If modern readers pay careful attention, they will hear these women preaching through their printed works.
Mary Anne Schimmelpenninck, one of the first women to publish a comprehensive work of biblical interpretation in English, witnessed the empowerment of women's voices within eighteenth-century Quaker and Methodist communities before eventually becoming a Moravian.  The Moravians were a somewhat experimental spiritual community to which William Blake's mother – Catherine Wright Armitage Blake – belonged.  Schimmelpenninck was an anti-slavery activist and philosopher who referenced the work of Anna Barbauld and Joanna Baillie repeatedly in her prose.  Her modestly titled book Biblical Fragments (1826) draws on the church fathers and cites passages of the Old Testament in Hebrew to contest the King James translation.  Schimmelpenninck also boldly transcends historical divides between Protestants and Catholics by praising the biblical interpretation of seventeenth-century French nuns.  Her ground breaking ecumenical work has been undervalued in histories of Dissenting women's social activism and the scriptural engagement that undergirded it.
My book Veiled Intent: Dissenting Women's Aesthetic Approach to Biblical Interpretation asks how eighteenth-century dissenting women writers were able to ensure their unique biblical interpretation was preserved for posterity.  And how did their careful yet shrewd tactics spur early nineteenth-century women writers into vigorous theological debate?  Why did the biblical engagement of such women prompt their commitment to causes such as the antislavery movement?  Veiled Intent traces the pattern of tactical moves and counter-moves deployed by Anna Barbauld, Phillis Wheatley, Helen Maria Williams, Joanna Baillie, and Mary Anne Schimmelpenninck.  These female poets and philosophers veiled provocative hermeneutical claims and calls for social action within aesthetic forms of discourse viewed as more acceptably feminine forms of expression.  In between the lines of their published hymns, sonnets, devotional texts for children, and works of aesthetic theory, the perceptive reader finds striking theological insights shared from a particularly female perspective.  These women were not only courageously interjecting their individual viewpoints into a predominantly male domain of formal study–biblical hermeneutics–but also intentionally supporting each other in doing so.  Their publications reveal that they were drawn to biblical imagery of embodiment and birth, to stories of the apparently weak vanquishing the tyrannical on behalf of the oppressed, and to the metaphor of Christ as strengthening rock.