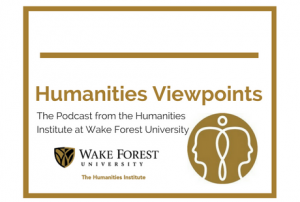 Humanities Viewpoints is a monthly podcast from the Wake Forest University Humanities Institute.  It features short conversations between host Aimee Mepham, Humanities Institute Assistant Director, and a WFU faculty member working in the humanities.  The conversations focus on a timely subject – a current event, holiday, cultural moment – and how this subject connects to the faculty member's field, teaching, and expertise.  The podcast debuted in 2014, and WFU faculty members from Art History, English, German, History, Religious Studies, and Women's, Gender, & Sexuality Studies have participated.
The September episode, the first of the 2016-2017 academic year, features a conversation between Mepham and Jake Ruddiman, Associate Professor of History at Wake Forest University, on Hamilton, the man and the musical.  Ruddiman, a scholar of the American Revolution, received his PhD from Yale and joined the WFU faculty in 2010.  His first book, Becoming Men of Some Consequence, presents the experiences of young men fighting in the Revolutionary War.  His next projects explore the Revolution in the Southeast.
Hamilton:  An American Musical tells the story of founding father Alexander Hamilton.  It was written by Lin-Manuel Miranda, who also starred in the title role.  It debuted Off-Broadway at the Public Theatre to critical acclaim and transferred to Broadway in August 2015.  Since then it was nominated for a record-setting 16 Tony Awards, winning 11, including Best Musical as well as awards for Best Book and Best Score for its creator, Miranda.  It was also the recipient of the 2016 Grammy Award for Best Musical Theater Album and the 2016 Pulitzer Prize for Drama.  It's even made its way into Wake Forest University's undergraduate admissions application as a short-answer question.
During the conversation, Ruddiman discusses the Hamilton phenomenon, including what Hamilton, the musical, gets right, what it leaves out, and what may have captivated Lin Manuel-Miranda's imagination, inspiring the creation of his version of this "Founding Father without a father."
One of the things Ruddiman commends the musical for is the ideas it presents about history itself.  He says, "Lin-Manuel Miranda gets something profoundly correct about history, and that history, the story, first is contingent . . . and the second thing is that history, as a record of the past, of events, is incomplete.  The line that I love and that other historians have loved is, 'Who lives, who dies, who tells your story?'  That is a historiographical statement, a philosophical statement about history if there ever was one."