As I found it in vain to contend, I had a trunk opened, and they fixed the cloaths I was to put on, which were very new; but I wrapped up my head in a night cap…as I was told they did not intend to let me wear a hat. When I was ornamented, as they imagined, instead of being placed, as before, on my own mule, I was seated before Mr Crisp on his; and at the same time, one of the guards pulled off his hat and carried it away with him, which treatment amazed us extremely. But our astonishment increased when our fellow sufferers were made to dismount, and walk two and two, bareheaded, the sun being hotter than I had ever felt it.   

–Elizabeth Marsh on being prepared by her Moroccan captors to enter their country after being abducted on a ship in 1756.
The twentieth year of Elizabeth Marsh's life can hardly be said to have been uneventful. In July 1756, while traveling alone to England, Marsh, an English woman, was captured by corsairs (pirates) off the coast of North Africa on her way to England, and taken by force to Barbary, now known as Morocco. There, she was nearly turned into the sexual slave of Sidi Muhammed, the acting sultan, but was saved by both her firm resistance and James Crisp, a fellow captive pretending to be her husband.
Close to two decades later, when she was nearly forty years old, she defied social custom by traveling alone again, this time as a wife (now married to Crisp in reality) and mother, on an overland journey by palanquin throughout East India. During this journey, which involved seeing many local sights as well as dancing, singing, and drinking tea with her company, she escaped abduction but kept a diary.
Marsh lived from 1735 to 1785. Born in Portsmouth, England she was conceived in Kingston, Jamaica. Her father was a ship's carpenter and dockyard official for the Royal Navy. These bare details appear mundane at first, yet the cosmopolitan significance of these places in the eighteenth century and of her father's naval career intimates the extraordinary richness that a fuller account reveals of this headstrong and independent woman's life. Filled with severe shocks, pains, and turns of fortune, Marsh's life was profoundly shaped by the dramatic changes taking place in the world at large in the eighteenth century, including those brought on by England's global commerce and expansion, increased opportunities for travel, and economic mobility for the English, as well as different wars, including the Seven Years' War and American War of Independence.
UCLA's Charles E. Young Research Library's Special Collections holds a bound manuscript volume of Marsh's written accounts of the two noteworthy episodes in her life as a traveler, mentioned above. In addition to the stories they tell, the accounts are notable for their ethnographic details, and their view of eighteenth-century culture, including the role of women in this time period, as well as British imperialism and race relations. Material culture scholars might be interested in Marsh's descriptions of Moroccan and Indian landscapes and gardens, architecture, interior décor, household objects, and food, in addition to the dress of native inhabitants.
Marsh also describes the different states of horror, melancholy, grief, joy, and boredom that accompanied her experiences, which in Morocco were especially turbulent, and in India reminiscent of the eighteenth-century social worlds depicted in the novels of Frances Burney and Jane Austen. Throughout, she records the physical experiences of extreme climates, including her acute thirst and fatigue when taken captive by Moroccans and forced to ride for hundreds of miles on a mule, and of being unable to lie on her sleeping mat in India because the ground was so hot.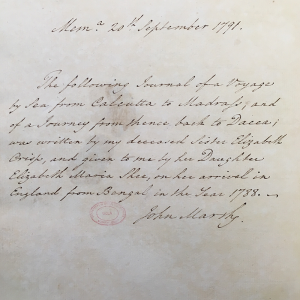 As material documents, the manuscripts indicate the different processes involved in recording and creating the memories of Marsh's experiences on paper and make them available for posterity. The two—Marsh's Moroccan captivity memoir and her East Indian tour diary—were bound together by John Marsh, her brother, in red leather. A bookplate bears his name, and notes inserted by him introduce the memoir and the diary, placing them in the context of her life. The memoir appears to be written in John's neat hand and the diary in Elizabeth's own, which he explains was given to him by her daughter, Elizabeth.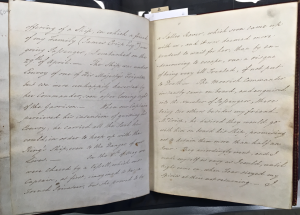 Because there was no way for Marsh to keep a diary during her Moroccan captivity, she was compelled to record the experience several years later. The smoothing effects of temporal distance and a text already written can be detected in the memoir's even and regular hand—obviously written with the convenience of a steady, dedicated writing surface and setting. At the same time, the narrative itself is smooth, unbroken by the unit of individual days that divide diary writing, and aware of its own narrative arc. Marsh eventually turned her memoir into a published narrative—as a way to make money after her husband's business dealings foundered—that appeared anonymously in London in 1769 under the title The Female Captive.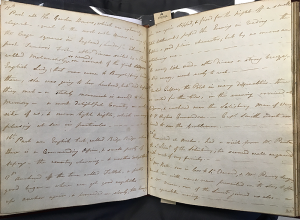 The diary's handwriting, less smooth and regular than the memoir's, reveals the instability of the circumstances in which it was written as well as the immediacy of the impressions described. With each entry, knowledge of what will happen next, as well as the end of the journey, remains unknown. Marsh only knows how each day she describes ends. The same can be said of the reader's own initial encounter with this and other archival material, as only acts of further research can provide the information needed to understand the greater context of Marsh's diary and the events described, as well as the end of her story, which runs well beyond the pages of the diary.
She eventually died in 1785 in Calcutta of breast cancer at the age of forty-nine after undergoing a mastectomy without anesthesia a few months earlier. The extracted tumor was said by her uncle George Marsh to have weighed five pounds. In its very fragmentariness, the diary manuscript offers direct contact with the vital impulse that led Marsh to exert her own hand in shaping what she must have known were remarkable circumstances at the time—a woman traveling without her family in a remote country—by documenting them in writing. In doing so, she has left a precious record of her life as an eighteenth-century woman who inscribed her own way into the history of the modern, globalizing world.
This post originally appeared at the UCLA Library Special Collections Blog and is reposted with permission of the author.
Items on exhibit at UCLA Library Special Collections through May 2018:
1. Elizabeth Crisp (née Marsh). Journal of a Voyage by Sea from Calcutta to Madras, and of a Journal from there back to Dacca; Narrative of her Captivity in Barbary (1756). December 13, 1774-June 20, 1775. YRL Special Collections 170/604.
2. Thomas Pellow. The History of the Long Captivity and Adventures of Thomas Pellow, in South-Barbary. Written by Himself. London: R. Goadby, 1740? YRL Special Collections DT 308.P36h
Marsh was one of several thousands of European travelers abducted by Moroccan corsairs throughout the early modern period. Pellow's account of his experience precedes Marsh's. The title of his narrative suggests the popular influence of such fictional travel narratives as Daniel Defoe's The Life and Strange Surprizing Adventures of Robinson Crusoe, of York, Mariner (1719).
3. Linda Colley. The Ordeal of Elizabeth Marsh: A Woman in World History. Anchor Books: New York, 2007. College Lib. CT 788 M2187C65 2008
The life of Elizabeth Marsh was made more widely known over a decade ago by the publication of Linda Colley's gripping biography, which was named one of the top ten books of 2007 by The New York Times. Her book contributes greatly to the understanding that the events in Marsh's apparently inconsequential life were direct functions of the sweeping changes taking place in world history during her lifetime.
4. Eliza Bradley. An Authentic Narrative of the Shipwreck and Sufferings of Mrs. Eliza Bradley, the Wife of Capt. James Bradley, of Liverpool, Commander of the Ship Sally, Which was Wrecked on the Coast of Barbary, in June 1812. Written by Herself. Boston: James Walden, 1820. YRL Special Collections G 530.B72a 1820
Marsh's experience as a female taken captive off the Moroccan coast is highly unusual. Bradley's story of her captivity by Arabs, fifty-six years later, provides her with company as another narrative of female captivity (though there is no documentation of her existence in England, from which she alleges to be). Like Marsh, Bradley describes having her hat taken away by her captors, a situation that also left her extremely vulnerable. She reports "since my captivity, I had many times begged of my master that he would return me my bonnet, as the only means by which he could expect to preserve my life."
5. Joseph Morgan. Complete History of Algiers. To which is prefixed, an epitome of the general history of Barbary, from the earliest times: interspersed with many curio. London: J. Bettenham, 1731 YRL Special Collections 284.M822c 1731
The English people during Marsh's lifetime became acquainted with the culture and history of Morocco through books such as Morgan's. The author, an English man who claims to have been a long-time inhabitant of Morocco, states in the preface that he hopes to disabuse readers with his book of the "misinformation" that "those who vilify" Moroccans rely on when "judg[ing]" them "wrongly."