The 18th-Century Common offers a public space for sharing the research of scholars who study eighteenth-century cultures with nonacademic readers.
We present short digests of our research in accessible, non-specialized language, along with links to original texts, objects, and images, as well as resources for further reading.
New posts appear below.  You can explore topics in "Collections," informal posts on our "Blog," and descriptions of 18th-century material around the web at the "Gazette." Click "Editors and Advisors" to browse by post author.
Learn more about The 18th-Century Common…
---
The 18th-Century Common is currently seeking contributions in the following areas:
(For & Against) Cognitive Science and 18th-Century Studies
New Directions in 18th-Century Feminist Studies: Developments of the Field in the Twenty-First Century
The Age of Wonder: Science and the Arts in the 18th Century
Rethinking the Intersections of Romantic-Age Literature & Science: New Approaches to Mary Shelley's Representation of Science & Technology in Frankenstein
Travel, Exploration, and Empire in the 18th-Century
See this post for more information.
---
Latest Posts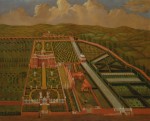 May 14, 2013
The physical garden was to Sir William Temple and other Epicureans a reflection of one's mental landscape, and in the best of all possible worlds, one would stay in the garden–a position that Voltaire would later and more famously endorse in Candide. Like seventeenth-century definitions of wit, Temple's philosophy of the garden expresses a balance of judgment and fancy, those gendered faculties of the mind, and an appropriate blend of reason and passion. The act of gardening for Temple was the practice of freeing the self from the disordered passions, unavoidable but capable of being subdued like wild weeds. One needs only a patch of earth, a shovel, and a life of the mind.
March 20, 2013
In mid-October 1784, two major London newspapers dedicated the poems that were a regular feature on their final page to a set of comic meditations on a unique fashion trend that had developed shortly after the first-ever human flight in England the month before.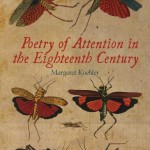 March 1, 2013
Margaret Koehler's Poetry of Attention in the Eighteenth Century (Palgrave, 2012) makes a case for the relevance of eighteenth-century models of attention, suggesting that earlier accounts of cognition can be just as extensive, precise, and applicable to diverse realms of human experience as 21st-century theories.