This Collection gathers contributions to The 18th-Century Common that do not (yet) fit into the other topical Collections.
Click Join Us if you would like to contribute work that does not fall into another Collection but would be of interest to the readers of The 18th-Century Common.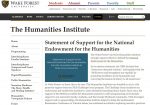 March 17, 2017
The 18th-Century Common was developed with substantial support from the Wake Forest University Humanities Institute, which itself was founded with generous support from an National Endowment for the Humanities Challenge Grant. We are grateful that NEH funding has enabled an international array of scholars writing for The 18th-Century Common to share research with nonacademic enthusiasts of eighteenth-century studies.