This Collection gathers contributions to The 18th-Century Common that do not (yet) fit into the other topical Collections.
Click Join Us if you would like to contribute work that does not fall into another Collection but would be of interest to the readers of The 18th-Century Common.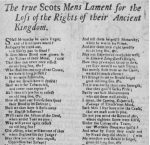 July 31, 2019
Since January 2019, the Scottish Opera has been holding interactive performances of a Jacobite-themed production entitled 1719! in dozens of primary schools across Scotland. Examination of Jacobite ballads printed around 1719 in relation to 1719! reveals shared patterns of thought: both 1719! and Jacobite ballads instrumentalize the past to cultivate a unique Scottish identity and sense of a cyclical history that resonates with contemporary cultural and political aspirations.