This Collection gathers contributions to The 18th-Century Common that do not (yet) fit into the other topical Collections.
Click Join Us if you would like to contribute work that does not fall into another Collection but would be of interest to the readers of The 18th-Century Common.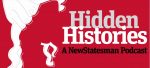 August 12, 2016
The Great Forgetting: Women Writers Before Austen is a free podcast series addressing the lives and works of eighteenth-century women writers, devised and produced by one journalist and three academics. One day while chatting on Twitter, Helen Lewis (deputy editor of the New Statesman, a leading British weekly magazine focusing on politics and culture) Jennie Batchelor (University of Kent), Sophie Coulombeau (Cardiff University), and Elizabeth Edwards (University of Wales) discovered that they shared not only a love of eighteenth-century women's writing, but also a conviction that the world needed to know more about it. An idea was born: a six-part podcast series, aimed at the non-specialist listener, about the lives, works and legacies of the women who changed the face of literature – but had, from the beginning of the nineteenth century, been gradually subjected to what Clifford Siskin calls 'The Great Forgetting'.